Own needs card «INFINITE LIGHT»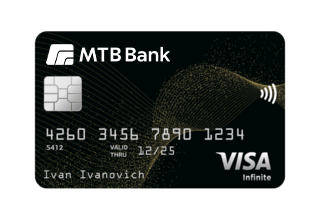 Benefits
VISA Infinite contactless card;
contactless payment for purchases with Google Pay / ApplePay;
online secure payment service 3D Secure;
free non-cash crediting;
free cash crediting of an account;
free cash withdrawal within the limit;
non-cash payments in the retail and service network and on the Internet - no commission;
issuing the additional VISA Infinite card for the family members - free;
Visa Concierge service;
«Priority Pass» service;
free access to Business Lounges under the Lounge Key program - unlimited;
free baggage packing at 'Boryspil' airport - unlimited;
free FastLine Service passes at the 'Boryspil' airport - unlimited;
complete international travel insurance;
funds conversion (if the transaction currency differs from the account one) - no commission charged;
E-mail-banking/ / «MTB360» mobile application/ SMS – banking;
insurance for individuals traveling abroad from IC "Respect" at a special favorable offer «VIP-200» package ( insurance coverage- 30,000 EUR);
Card payments up to 1,500 UAH without entering a PIN code and signature, contactless, both off-line and on-line.
To apply for service package fill out an application and our officer will soon contact you
Conditions
Card type: VISA Infinite;
Card validity period: 3 years;
Currency: UAH / USD / EUR;
Primary card registration:1 490 UAH;
monthly fee for CDS: 300 UAH (free in case if the card payment limit is met via a POS terminal and the Internet in the amount of 20,000 UAH per month);
annual CDS fee: not charged;
registration of an additional same class card: FREE;
additional card maintenance: FREE;
security deposit:none;
interest accrued on the account balance: not charged;
cash replenishment at the Bank's cash desk: not chargeable;
non-cash depositing: not chargeable;
cash withdrawal at ATMs and branches of MTB Bank PJSC: within the limit of 50,000 UAH per month - not chargeable, over the limit 0,5% min 25 UAH.
cash withdrawal at other banks: 1,2% min 5 UAH.
purchase / sale of foreign currency on the CMU:0,5%;
conversion of non-cash foreign currency into the foreign currency of another state on the UIFEM: 1%.
Communication with the concierge service
| | |
| --- | --- |
| | +38 044 300 05 03 |
| | visa@concierge.link |
| | |
| | |
Procedure of execution
Make an arrangement with the manager
At the meeting discuss terms and conditions and execute the documents
Documentation